LOGO GUIDELINES
LOGO GUIDELINES
Use of DAIMEI Logo
The DAIMEI GROUP logo represents the policies we hold dear.
More than plastics
Taking on the challenge of creating high value-added beyond plastics
DAIMEI GROUP has established logo design guidelines to enhance and maintain its brand image.If you wish to use the logo in a manner not described in the guidelines, please contact us in advance.
To download logo data here
Corporate color
The color designation of the corporate color "Daimei Blue" shall be as follows

daimei blue
C:100 M:90 Y:30 K:0
R:15 G:54 B:117
Isolation
A certain amount of isolation (margin space) is required around the logo, and no elements may be placed within this area.Even if isolation is secured, please avoid, as much as possible, placing elements near the logo that may detract from the impression of the logo.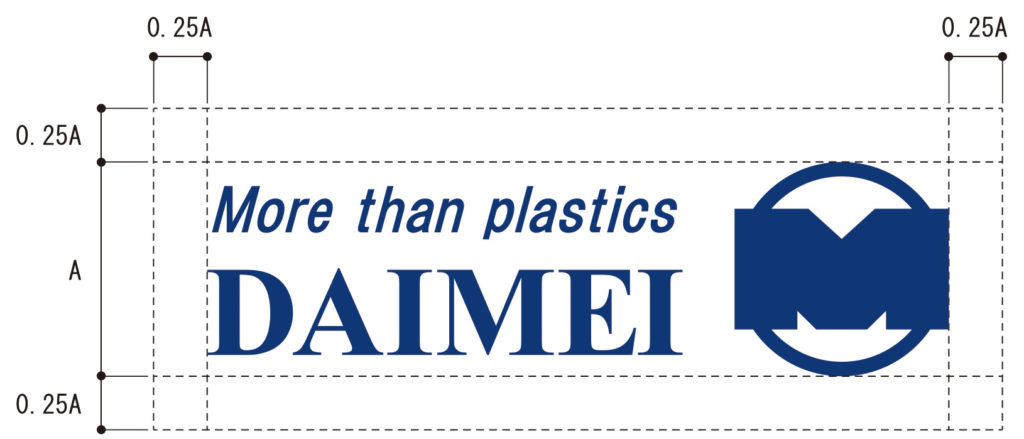 Examples of prohibited logo use
Altering or altering the shape would damage the brand image.Please refer to the examples below and be very careful not to use them incorrectly.
(Exceptions will be made for items specifically approved by the Company.)









For inquiries about the logo, please contact the following.
Daimei Plastic Co., Ltd.
Public Relations Team
TEL:+81-6-6745-6309
FAX:+81-6-6745-3044
Enactment:2018/06/01