RECRUIT
Initiatives for Human Resource Development
Top Message
Messages are delivered from the president to employees and employees reply their own thoughts. The most memorable messages are shared with the entire company. This helps to align the vector of the entire group and cultivate the ability to think and act on one's own initiative.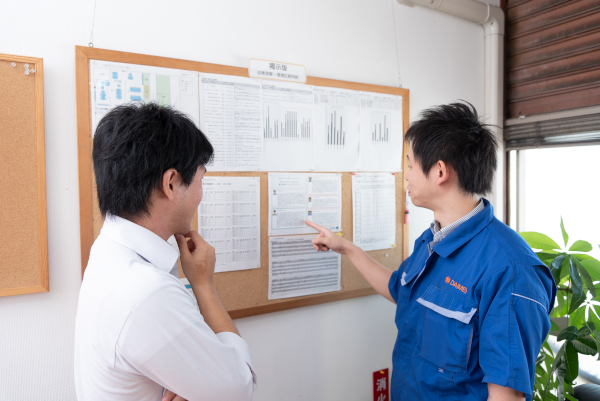 Educational Seminars
With the aim of developing human resources who will carry the future of DAIMEI, we actively conduct category-specific training programs such as "passing on skills," "developing managers," "exercising leadership," and "acquiring a sense of management.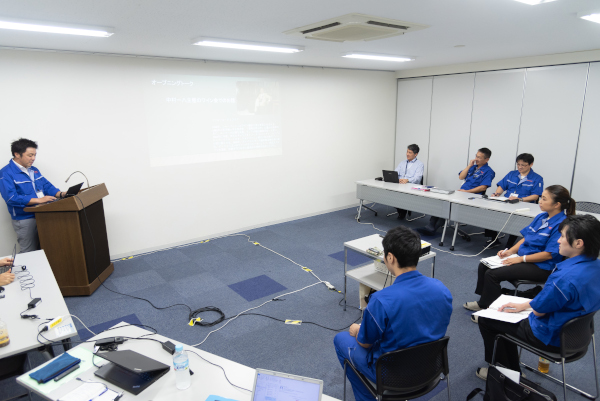 Project Activities
We form cross-departmental project teams, mainly consisting of young members, to foster a sense of responsibility, autonomy, and cooperation. The aim is to nurture human resources with a broad perspective through experiences that cannot be gained in the normal course of business.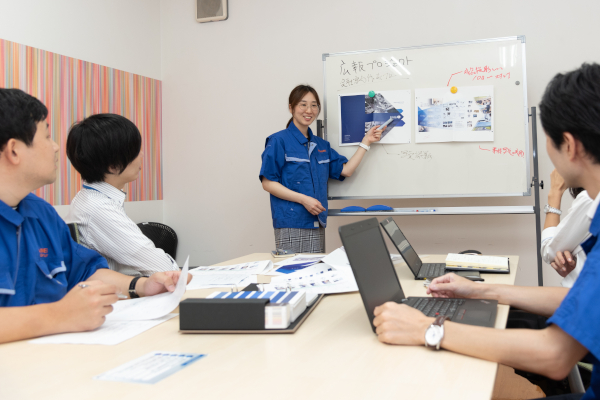 QC circle
Through QC circle activities conducted for all employees, we aim to develop the ability to detect and solve problems. Working together as a team within the same workplace also leads to self- and mutual-development. Once a year, a company-wide convention is held.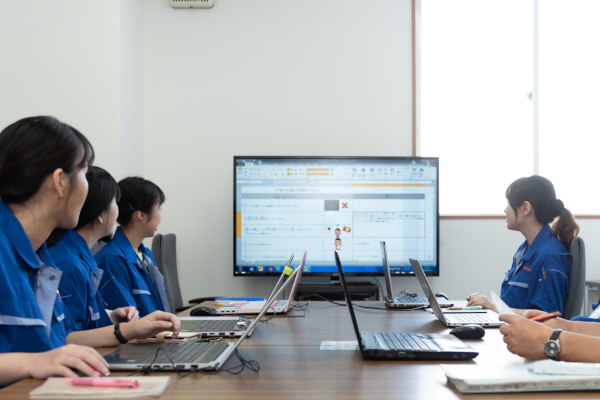 improvement activity
We focus on improvement activities to enhance productivity and workplace environment. Examples of improvements at each site are horizontally deployed throughout the company and utilized for on-site improvements. At the same time, we cultivate independence, a sense of ownership, and the ability to think independently.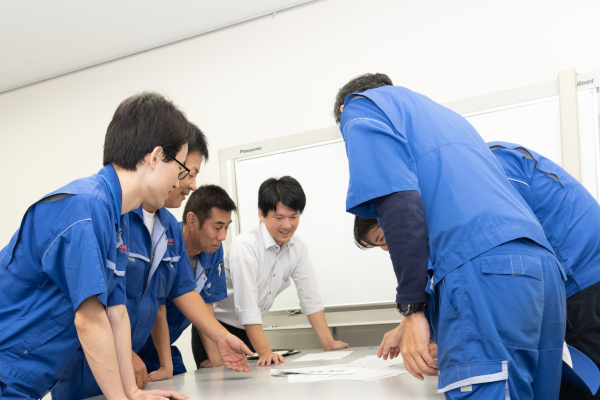 New employee training
In the new employee training, participants learn the basics of greetings, manners, smiling, etc., as a way to prepare themselves for the working world, and also participate in mock exercises such as discussions and presentations. Senior employees serve as instructors, so you can get a feel for the corporate culture.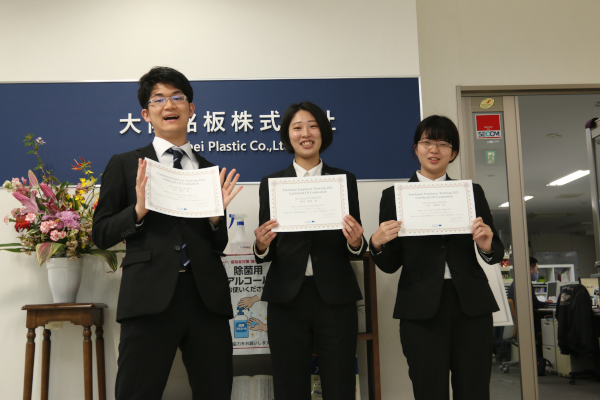 career interview
We will prepare a career development sheet and conduct interviews with your supervisor at least twice a year. We will consider future career development together with the employee, respecting the employee's own will.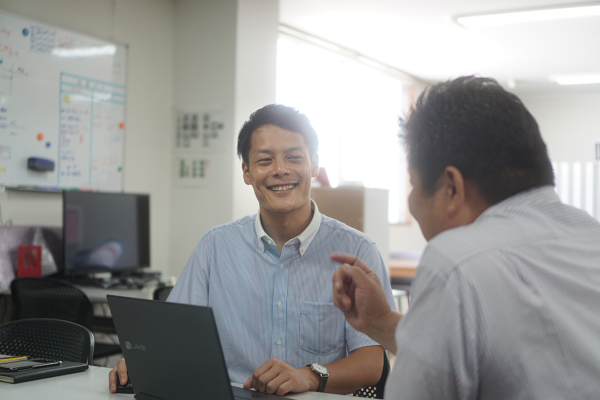 Initiatives to revitalize the organization
Employee Motivation Activities
We have a code of conduct called the "Daimei Credo," which encourages each and every one of our employees to act on their own initiative to carry out their work efficiently and with a sense of purpose. We hold regular meetings for all employees to share awareness and exchange opinions in order to promote friendly competition. In addition, twice a year, we use an organizational diagnostic tool called "Engagement Survey" to visualize the state of the organization and measure the level of mutual understanding and affinity between the company and employees. Based on the results, each department formulates an action plan and implements organizational improvement through the PDCA cycle, aiming for a better organization where the company and employees are aligned with each other. Through these efforts, we are raising employees' sense of ownership and encouraging them to increase their motivation.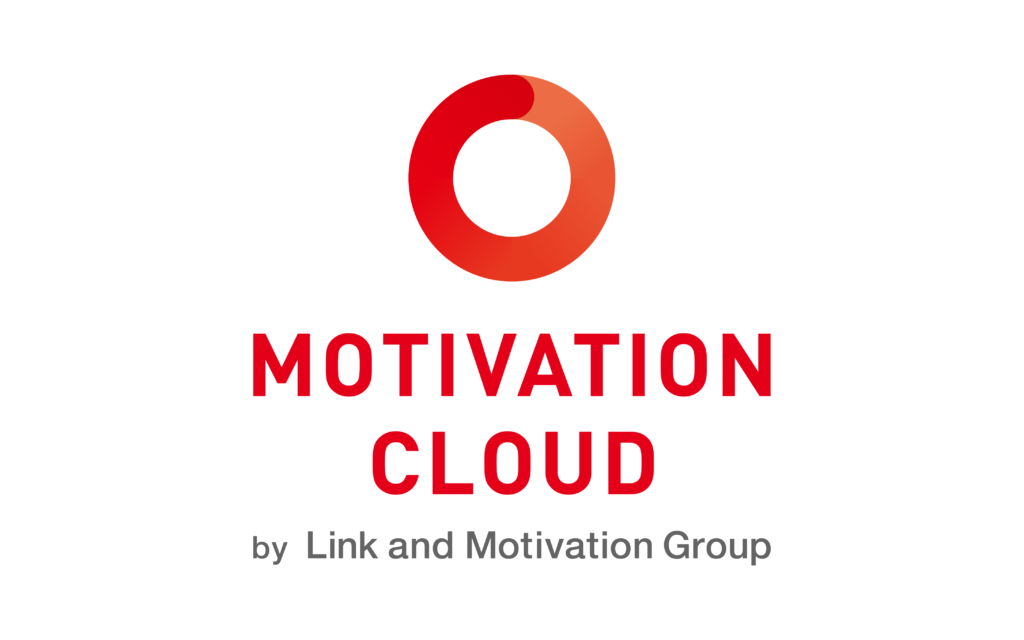 Our Culture
Our culture
It is a company with a culture where you can take on challenges that interest you and where challenges that make use of your knowledge are recognized. This has been recognized by the outside world, and we have received the following awards and been featured in magazines.
The company received a special award (longevity company category) at the 1st "Best Companies to Work For" Awards (sponsored by the Osaka Management Rationalization Association), and was featured in Diamond Inc.
Encouragement of qualification acquisition
Qualification allowances are provided according to the qualifications acquired.
 Plastic Molding Technician
 In-house finishing technician
 Electrical Discharge Machining Technician
 Machining Technician
 QC certification
 TOEIC
 Bookkeeping and others